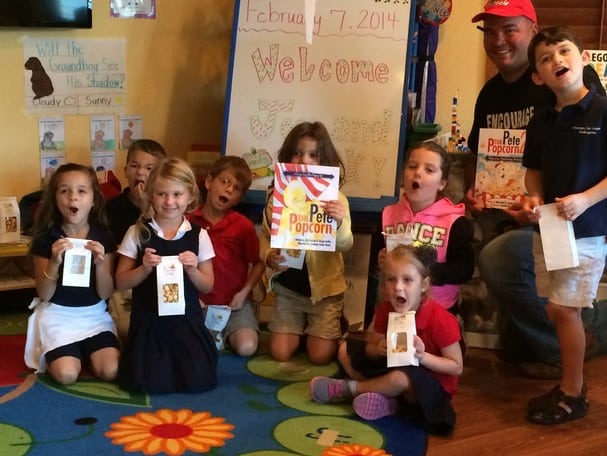 Bestselling children's book author Joe Kelley recently visited with the kindergarten class at Discovery Day Academy, in Bonita Springs. Kelley, along with Nick Rokicki, co-authored the book, Pete the Popcorn 2: Popcorns Practicing Principles, is the second book in a series aimed at children in Kindergarten through third grade. The book prominently features local business The Popcorn Cellar, located on 5th Avenue South in Naples, as well as an imaginary 5th Avenue, while teaching children about honesty.
Pete the Popcorn was a nationally recognized book that subtly took on bullying. The book spawned a tour of 25 states, where the authors visited with over 100,000 school children. Kelley recognized the importance of children meeting authors. "Getting to meet an author and ask questions about reading, writing and the whole process behind a book is a great way to pique the interest of kids when it comes to activating their interest in literature," he said.
The Popcorn Cellar provided each child with a sample of their popcorn to take home as a complement to the book reading.
"We are so grateful to The Popcorn Cellar and to Joe Kelley for visiting our school," said Founder and Head of School Elizabeth Garcia. "The children had a great time and it was a memorable experience for them."
Discovery Day Academy was founded in 2006 as an independent school for early learning research. Since the school's establishment, it has grown to include three campuses in Bonita Springs and Clewiston. For more information, visit www.DiscoveryDayAcademy.com.