Admissions Process At A Glance
Choosing the right school is one of the most important decisions you'll ever make for your children, and we know just how stressful that process can be. We're committed to making the school selection process as positive as possible, and we look forward to sharing our DDA family with you.
Please fill out the form below, or call us at 239.498.5826 to schedule a tour of one of Discovery Day Academy's two Florida campuses.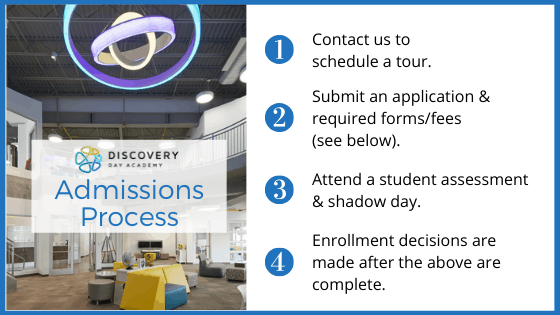 Click the below links to view the 2021-2022 school year application, tuition commitment, and tuition & fees schedules.
We welcome parent involvement in our school and in our classrooms, and we invite you to participate. Opportunities range from classroom volunteers, to field trip chaperones, membership in our Parent Partnership Organization (PPO), fundraising, school- and community-wide events, and more.
Schedule A Tour Now
Please fill out our form to schedule a tour and learn more about our private school programs in Bonita Springs and Clewiston.