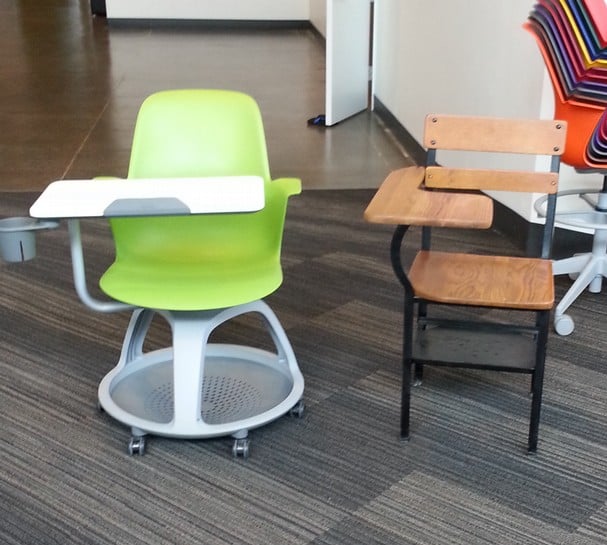 Discovery Day Academy's Elizabeth A. Garcia, founder and head of school, and Allana Cardenas, department head lower school, recently traveled to Grand Rapids, Michigan, for a private tour of Steelcase's corporate headquarters. The school was a guest of Office Furniture and Design Concepts of Fort Myers, which is designing aspects of the school's new campus. Steelcase is the world's largest office furniture design company and also innovates educational furniture aimed at supporting 21st century learning. Historically, products have been designed for high schools and universities.
"It was a productive trip and we were grateful for the opportunity," said Garcia. "Every aspect of the Steelcase philosophy is supporting 21st century initiatives, so our relationship is a perfect fit."
Steelcase will be designing furniture for Discovery Day Academy's new campus, focused on children in kindergarten through 8th grade. The school will have the company's first prototypes for this age group. The classroom furniture and technology solutions will allow for classrooms that are collaborative and transitional, supporting the needs of all learners. This summer, Discovery Day Academy will transform its current primary school classroom to showcase the 21st century furniture and technology. Students will be provided the benefits of a transitional classroom environment, supporting the school's project based learning philosophy prior to moving into the new campus in fall 2015. This will also allow current and perspective families to experience the innovative look and feel of the new campus.
For more than 100 years, Steelcase Inc. has helped create great experiences for the world's leading organizations. Steelcase and its family of brands offers a comprehensive portfolio of furnishings, products and services designed to unlock human promise and support social, economic and environmental sustainability.
Discovery Day Academy engages its students in meaningful learning through The Discovery Method, a project-based learning model developed by Garcia. The Discovery Method focuses on deep learning, authentic experiences and 21st century outcomes. The school also observes a makers philosophy, with a focus on innovation and creativity, through DIY materials and technology. A makerspace will be a key element in the new campus' design.
Discovery Day Academy was founded in 2006 as an independent research school and has since grown to include three campuses. A 21st century primary school, inclusive of children through 5th grade, will open in fall 2015. Future growth through 8th grade is planned. For more information, visit www.DiscoveryDayAcademy.com.