Partnering with our school helps
our children and community grow.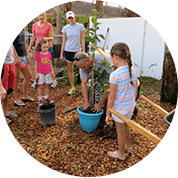 At Discovery Day Academy we provide authentic learning experiences for students by pairing with community experts. We teach students how to impact our local community. Whether donating food from our edible schoolyard or creating posters for local conservation efforts, every child can make
a difference.
Creating a thriving community requires the input and support of business leaders. Your company can play a vital role in shaping our children's futures by joining our school's community partners list.
We invite you to:
Provide an authentic question for our project based learning studies
Present to our students
Provide a field research venue for student learning
To apply to become a community partner, please submit the form below. Our staff will contact you to discuss potential partnering opportunities. We would also like to include your company's logo on our school's community partner page.