We must hold high expectations
of our children's capabilities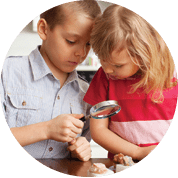 MAKING A DIFFERENCE FOR OUR YOUNG LEARNERS
Discovery Day Academy was founded in 2006 by Elizabeth Garcia as an independent lab school for early learning research. Elizabeth Garcia's experiences as a primary school teacher, interest in generational challenges and proximity to the business community attributed to her desire to make a difference for our nation's youngest learners. The creation of a learning model and project based curriculum, The Discovery Method, focusing on inquiry, deeper learning and authentic experiences is the product of her work. Since the school's establishment, it has grown to include campuses residing in Lee and Hendry counties.
The Discovery Student
Discovery Day Academy
Educates the Whole Child
A combination of content knowledge, timeless skills and 21st century approaches ensures the development of the whole child.
Provides Authentic and Inquiry Based Learning Experiences
Children learn best by making, creating, exploring and discovering; we engage in project work with a focus on inquiry based learning experiences. The greatest gift we can provide our children is the ability to analyze and transfer knowledge to real-life situations.
Nurtures Each Child's Potential
Each child is a storyteller, writer, mathematician, scientist, artist, philanthropist, engineer and inventor. Children have an innate desire to learn; it is our role to encourage their creativity.
Values the Individual Learner
We set student outcomes and pinpoint children's learning styles, and then build an evolving and student-centered curriculum upon those ideals. Children innovate through our school's Makerspace, to apply their knowledge in creative ways.
Develops Strong Communication Skills
We believe in the importance of creating confident learners who can articulate their ideas both verbally and written; while respecting others.
Interacts Globally
We believe in providing collaborative learning experiences around the globe, from the comfort of our school. Community experts, virtual field trips and Skype sessions allow for cultural interactions.
Prepares Children for Their Future
Children must be provided an education that prepares them for their future, rather than our past. We live in a rapidly changing, global society. Children should collaborate with others daily, learning how to successfully work in diverse groups. Equally, they must develop a lifelong love of learning.