Recognition for Excellence
Discovery Day Academy has been honored with awards for excellence in education, leadership and community engagement by respected organizations in the field of learning and cognitive development.
SACS CASI Accreditation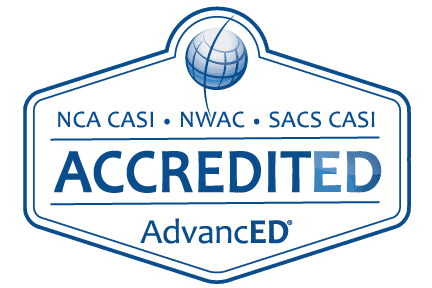 Discovery Day Academy earned accreditation from the Southern Association of Colleges and Schools Council on Accreditation and School Improvement (SACS CASI), an accreditation division of AdvancED. This action was taken at the AdvancED Accreditation Commission meeting on June, 20th, 2017.
SACS CASI provides nationally-recognized accreditation, the purpose of which is continuous school improvement focused on increasing student performance. To earn accreditation, schools must meet SACS CASI's high standards, be evaluated by a team of professionals from outside the school and implement a continuous process of school improvement.
"Accreditation demonstrates to our students, parents and community that we are raising student achievement through an innovative Project Based Learning curriculum. Our measured student achievement supports our school's pioneering efforts in learning and curriculum," stated Elizabeth Garcia
SACS CASI accreditation is recognized across state lines, which not only eases the transfer process as students move from accredited school to accredited school but also assures parents that the school is meeting nationally accepted standards for quality and successful professional practice.
Dr. Mark Elgart, President/CEO of AdvancED, the parent organization of SACS CASI, stated, "SACS CASI Accreditation is a rigorous process that focuses the entire school on the primary goal of creating lifelong learners. Discovery Day Academy is to be commended for engaging in this process and demonstrating a commitment to continuous improvement."
Parents and interested community members can learn more about accreditation at www.advanc-ed.org.
Read more here.
P21 Exemplar School
The Partnership for 21st Century Skills identifies, documents, and celebrates successful 21st century learning initiatives. Our program was one of fifteen schools chosen for this honor among schools, communities and thought leaders across the country. To learn more about P21's member states and business sponsors, please visit www.p21.org.
As an honoree of the P21 Exemplar Award, Discovery Day Academy was recognized for demonstrating our clear understanding of what 21st century educational practices should look like and how they should be implemented. Ours is now among a variety of models other educators can use to replicate best educational practices. Policymakers and P21 State Partners have access to the most effective award-winning ways of encouraging support for educational initiatives.
For a list of P21 Exemplar Schools, visit www.p21.org/exemplar-program-case-studies/list-of-exemplar-schools
The LEGO Foundation Reimagine Learning Challenge Pacesetter Award
The LEGO Reimagine Learning Challenge encourages children and young people to develop creativity, imaginative problem-solving, teamwork, empathy, and inspiration to prepare them for leadership in the 21st century.
Play is one of the brain's favorite ways of learning. It requires thinking of ways to tackle challenges that can be applied in real world situations. The LEGO Foundation and Ashoka showcase programs that can transform the way the world learns. The Foundation recognizes educational programs that exhibit:
Innovation: The best entries will be those that demonstrate a substantial difference from other initiatives in the field. Award-winning programs are driven by original, groundbreaking ideas.
Social Impact: Winning programs show innovation in play produces universally desired learning outcomes and measurable social impact.
Sustainability: Programs honored by the LEGO Re-imagine Learning Challenge demonstrate their plan for long-term financial stability, especially through strong partnerships and support networks.
To see the list of all the award recipients and learn more about the Lego Re-imagine Learning Challenge, go to www.changemakers.com/play2learn#entries